***NOT AVAILABLE AT THIS TIME***

This hay is from Standlee Hay Products http://www.standleehay.com

This hay is about the same weight as our own at 50 lbs. but only about 1/2 the size as they are compressed bales. See this site to learn about Standlee products as well as feeding compressed bales http://www.youtube.com/user/StandleeHayCo . They'll take up 1/2 the space in your hay storage and when you haul it on a trip (with horses) or picking it up it's easier to haul, load and unload.

We'll be selling these bales picked up at farm for $8.00. Deliveries will be minimum of 2 pallets. We'll be bringing our loader to unload and set the bales in your barn as they are (not hand moving individual bales).

We will be ordering in a limited amount of this grass based on your interest. Let me know as soon as possible if you'd like to order for pick up or delivery.

PRICE SUBJECT TO CHANGE AT ANY TIME!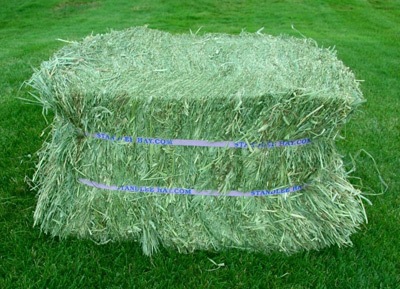 Once we have a semi load in we'll pull samples and submit for testing. You can see 5 year average on basic data at Standlee's web site: http://www.standleehay.com/FAQ.aspx